SVA Summer Classes Postponed Fall Registration Coming Soon
Dikko Faust
--postponed--
A survey of the last 200 years of type design, advertising and graphic popular culture will be given in this course. Type exploded into numerous forms in the 19th century, with fans and critics along the way. That explosion was aided and abetted by a constant barrage of new ways to make type, typewriters, keyboard cast type (linotype, monotype, etc.), as well as other innovations. A veteran type detective and letterpress printer will lead our investigation from his printshop and archive, students will undertake and share guided research with the class, as we learn about this exciting period for type and type design. Expect diversions into architectural ornament and much more that relate to letter design.
Note: This course is fully online and offered through synchronous sessions during the listed course hours.
Dikko Faust
--postponed--
A class for all levels.
Letterpress is versatile and adaptable, and mixes easily with other printmaking processes. Through hand typesetting vintage metal and wood typefaces, students will gain a broader understanding of typography. Printing blocks and plates range from completely manual, hand-cut and collaged, to digital photopolymer plates. Accurate color registration is simple and easy. The image can range from hard edge to feathered and painterly, and the relief impression adds a third dimension. Operation and maintenance of different kinds of letterpress is included. Sessions begin with a demonstration followed by studio time to work on projects that range from type-based graphic designs to fine art limited editions.
No experience required.

Shadow Fair :: Manhattan Fine Press Book Fair
869 Lexington Av,New York City 10065 :: St Vincent Ferrer 66th St & Lexington Av.
Saturday March 7, 2020 :: 10am-5pm
The Manhattan Fine Press Book Fair is a one-day fair known as the Shadow Fair. It is a less-formal, less expensive fair, held during the same weekend as the New York Antiquarian Book Fair at the Park Avenue Armory. The fair takes place in the school of St. Vincent Ferrer, located right around the corner from the ABAA fair at the Park Avenue Armory.
Booklyn Artist Book Fair 2020 in the 41st Greenwich Village Book Fair at PS3 ::
490 Hudson St, NYC 10014
PPP Studio Sale
Saturday/Sunday December 14+15 2019 :: 12 noon-4pm @B.A.T.
Bring a teeshirt and we'll letterpress print
W0od TyPe
on it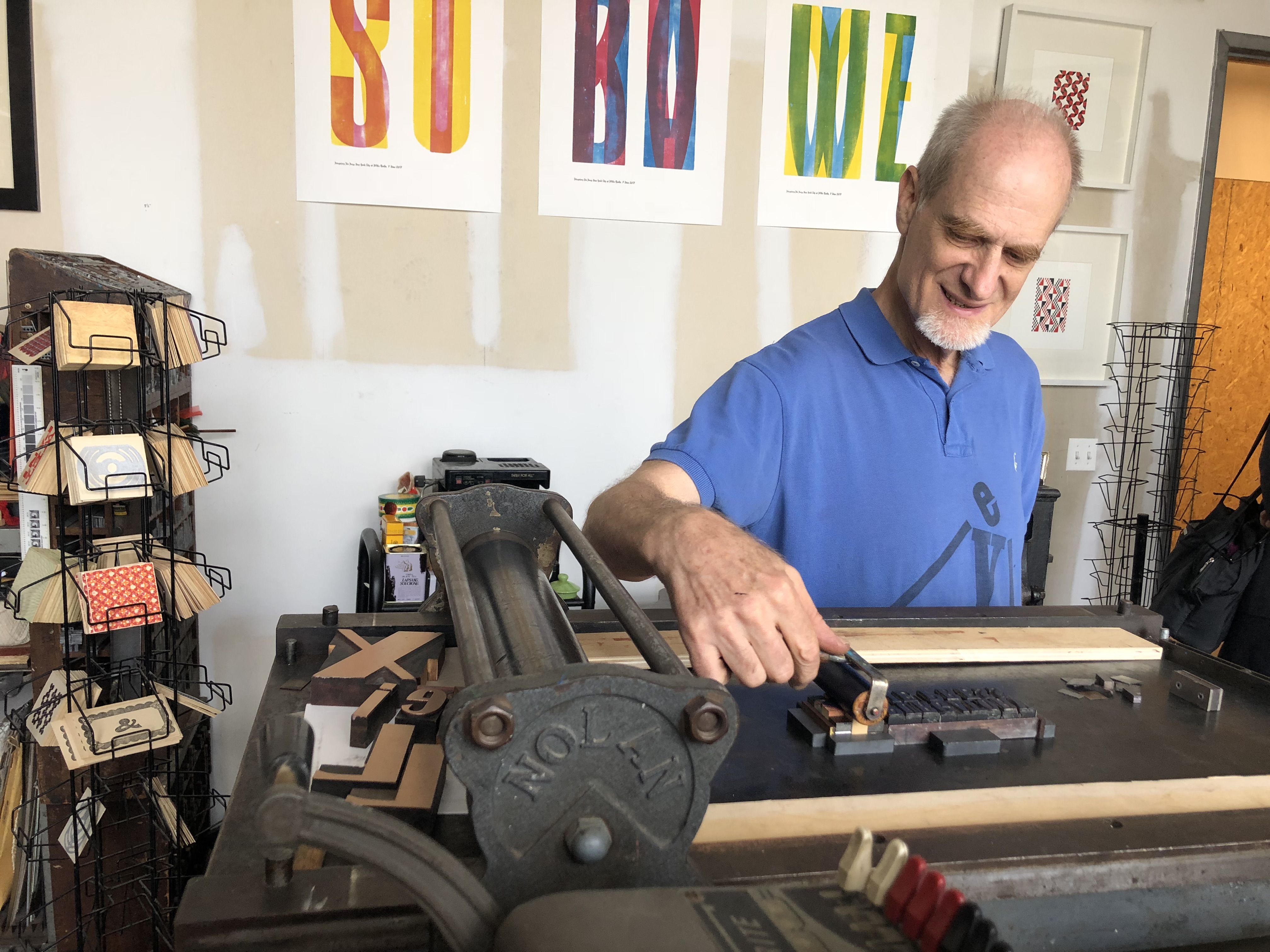 Walt Whitman's Words: Inspiring Artists Today
October-December 2019
Center for Book Arts, 28 W 27th St, New York, NY 10001
see Purgatory Pie Press's commission piece – pop-up by Sam Ita.
Odds and Ends Art Book Fair
Friday December 6, 2019 11:30am - 4:30pm
Yale University Art Gallery New Haven, CT
Small Business Saturday:: PPP Studio SALE
Saturday November 30, 2019 :: 1–6pm @B.A.T.
When Artists Enter the Factories walk-through
DJA'DE DISSECTED installation
October 18- November 22, 2019
Brooklyn Army Terminal Building B

photo - Kuo-Heng Huang
Dikko Faust's version of the oldest known wall painting -- 11,000 years old -- four 17 foot panels, enlarging 9 inch page spreads from Purgatory Pie Press Dja'de accordion book. Our piece in the site specific exhibition: When Artists Enter the Factories


Open House New York
Saturday/Sunday October 19+20, 2019 :: 12 noon-4pm
PURGATORY PIE PRESS and other ArtBuilt artists studios open to the public.
A Night of Animation & Flipbooks
Tuesday September 24, 2019 7:30pm - 9:30pm
Esther K Smith spoke about letterpress and handmade flip books

photo - Amy Kalyn Sims
Buy Contraption

Purgatory Pie Press Booth #306

Intro to Intro to Letterpress
September 10, 2019 :: 6:30- 8:30pm Hosted at SVA Letterpress Studio


Celeste Sloman for The New York Times


Designers, Illustrators, Poets, Artists, come tour SVA's extraordinary letterpress print shop.
You will set type and letterpress print a chromatic group project.
Feel free to bring snacks to share– and remember you might get inky–so dress for printing.

This is a hands-on intro to Dikko Faust's SVA courses (register NOW!)
more info-click!